Elite Door & Tap Hardware offers you the complete package from start to finish. Our staff have extensive knowledge of some 47 years in the industry and will be able to guide you through your project in a professional pleasant and painless manner.
One of the fundamental objectives at Elite is the responsibility in quality, service and information regarding our products. The constant improvement, and the criteria of balanced growth, brings into a company a coherence that all companies would like to have. Got a problem with a door, window or fitting handle or lock we can assist.
We provide an extensive range of Modern, Contemporary and Traditional door furniture, cabinet ware, window fittings, tapware, basins and bathroom accessories. We also offer a free door quoting and scheduling service. Contact one of our experts via "Contact Us" page or call 03 9429 1211.
Our trading hours here at Elite Door & Tap Hardware are Monday to Friday 8am to 5pm, and Saturdays 9am – 1pm. We are located at 337 Swan Street, Richmond, with convenient 1 hour parking available in front of the shop. We hope to see you here soon.
Here at Elite our connection to a large network of manufacturers and suppliers ensures we can find products you are looking for.
We also have close association to builders, architects, interior designers and people who are building or renovating so we are well informed of industry requirements.
Placed in the heart of Richmond, Elite's friendly and helpful staff can help you with your kitchen, bathroom and general household needs whether you require knobs, locks or knockers, taps, handrails or bathroom accessories. You are sure to find something in our extensive range to suit your style and budget.
Did you know that we provide door closers, door seals, sliding door tracks and bi fold systems, for both domestic and commercial applications. We also specialise in sourcing hard to find products and can custom make products to suit your specifications, all our fittings are backed up with a guarantee on faulty products.
Our tapware carries a 5 year guarantee.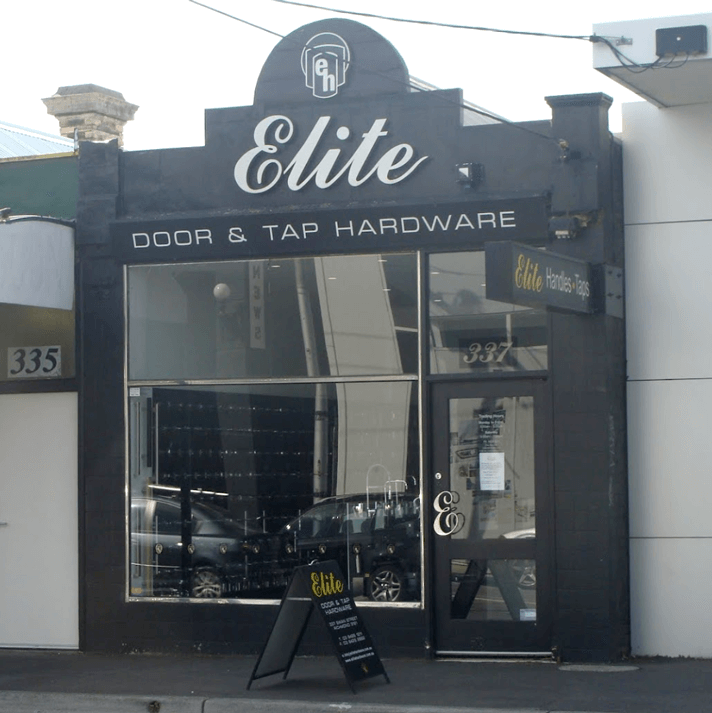 Our mission
Elite is the first choice for Door and Tap Hardware, supplying and helping builders and home renovators make the right purchase.
We are committed to profitable growth partnership with our customers, staff and suppliers.
We share our knowledge to assist in people making the right decision to obtain understanding of our products.
Our Message
There are many handle choices available on the market today and no matter what your preferred style, there's likely to be a door handle to suit.
Brent at Elite Door and Tap Hardware says that although contemporary geometric designs are hot right now, there is still a big market for traditional handles and even blends of the two. "It really depends on the style of the house, but when you're looking around its worth asking lots of questions to make sure you get the ones right for you." He says "For example, if you have a traditional home, but are doing a modern extension and want a handle that works throughout the old and new sections, you can get old-fashioned handles with a more contemporary finish, such as chrome or satin, rather than the typical brass".
Elite Door and Tap Hardware even have a resident Builder in house to answer technical questions you might have or talk you through an installation, what ever we can do to assist in enhancing your finished product.